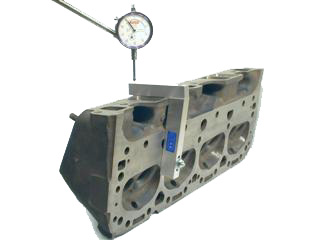 Part Nos:
VT-4: 80 degree S.B. Chevrolet & B.B. Chrysler/Mopar
VT-4A: 18 degree S.B. Chevrolet
VT-4B: S.B. Chrysler/Mopar

Automotive machine shops that surface cylinder heads can improve the accuracy of the intake surface angle with the use of this precision aluminum tool.

The VT-4 Cylinder Head Intake Angle Levels are an absolute must for a shop that angle mills cylinder heads. It is also a handy time saver for other shops that occasionally have to clean up intake surfaces. The VT-4s guarantee the correct included angle, rather than assuming the existing angle is perfect from the factory.

The VT-4 is suitable for use in correction of the 80 degree included angle found on cylinder heads such as small block Chevrolet and big block Chrysler with 23 degree valve angle. The VT-4-A is suitable for the 18 degree small block Chevrolet and the VT-4B for small block Chrysler.

The VT-4 is a recommended companion tool for the CHF-2 Cylinder Head Fixture.