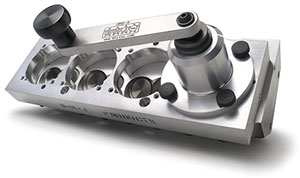 Part Nos:
ORG-3
ORG-3PLUS

BHJ's O-Ring Groove Cutter is the ideal solution for eliminating misalignment when cutting O-ring and receiver grooves. By using this specially designed cutter in conjunction with application-specific Register Plates (sold separately), absolute concentricity of the top and bottom grooves is insured.

Use of the ORG-3 Cutter and O-Ring Register Plate gives excellent results when cutting grooves in the block and/or heads. This operation is typically necessary when using copper head gaskets with stainless steel O-ring wire, copper wire with an MLS gasket, diesel "Fire Rings", Top Fuel "Hoops" and the Fel-Pro Loc-Wire™ head gasket.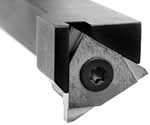 Cutting Inserts (right) are available in a variety of sizes to accommodate current, popular groove widths for gas and diesel applications. Inserts are custom-ground on centerline, which eliminates the need to reset groove diameter when grooves of different widths are required between the block and head. Replacement cutting Inserts are available in standard widths of .039", .048", .060", .085" and .120" and are also available in custom widths on a special-order basis. One-pound rolls of stainless steel or copper O-ring wire are also available in .041" and .051" diameters.

Click here for a comprehensive tech story on the current trends of O-rings, Fire Rings and Hoops in high-compression applications (EngineLabs.com)...

Click here for a customer's O-ring process video on a Ford 6.0 Power Stroke diesel head (YouTube)...

Click here for a customer's Fire Ring process video on a Cummins diesel head (YouTube)...

Click here for a detailed tech story on upgrading a Cummins diesel head with O-rings (Diesel Power Magazine/Truck Trend Network)...

Starter Kits are pre-packaged with specific insert and O-ring wire combinations, based on the type of gasket to be used, or may be custom-tailored to suit unique applications. Our popular Starter Kits include copper gasket, MLS gasket, Fel-Pro Loc-Wire™ gasket and diesel street, or race packages. Changing from one type of gasket application to another is as simple as replacing the cutter insert, or type of O-ring wire being used.

Applications range from small-bore ATV and import engines to large diesels, by installing the large-bore Register Ring for most V6 and larger engines, or removing it to accommodate the close bore-centers found in many small engines. This feature is available standard with all new O-Ring Groove Cutters. Conversion of older model O-Ring Groove Cutters to work with small-bore Register Plates is also available.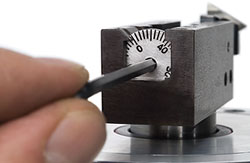 Groove diameter is precisely set using a special Dial Screw in the Tool Block assembly (left). Accuracy of the groove diameter is within .002" and groove depth is easily adjusted with the built-in micro stops, with accuracy within .001". Groove diameters range from a minimum of 3.00" to over 5.250" on centerline, based on application. The ORG-3PLUS features a higher diameter range and is used for large diesels, like Caterpillar C15, etc..

Using the O-Ring Groove Cutter with the appropriate Register Plate, an automotive machinist can accurately groove a pair of V-8 heads in just over one-hour, or a block and heads in approximately two and a half hours. Cylinder heads may be cut without first being stripped, as the chips are contained in the register plate bore area during cutting. Individual Cutter units include all necessary hardware and tools, while Starter Kits include the Cutter unit with carbide inserts (based on application), the Depth Gauge, a one-pound roll of O-ring wire (per application) and all necessary hardware and tools.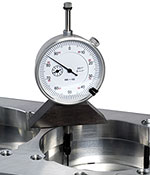 BHJ's O-Ring Groove Depth Gauge (left) is included in Starter kits, or is available separately. It is used to verify groove depths during the cutting process. After cutting the groove and removing the Cutter Head, the Gauge rests on the Register Plate surface and zero is set on the deck surface. The tip is then set into the groove in any of four locations around each bore and the groove depth is easily verified.

A 4" Short Handle option is available for engine builders wising to groove inline-6 cylinder engines while still in the vehicle. The Short Handle provides clearance from the firewall when cutting the rear cylinder of the block in most applications and is commonly requested for Cummins diesel projects.

Owners of older BHJ O-Ring Cutter Heads can upgrade to the ORG-3 Adjustable Tool Block by purchasing the ORG-3 Upgrade Kit, part number ORG-3-UPGD. All service parts are available for every BHJ O-Ring Groove Cutter.

O-Ring Register Plates



O-Ring Register Plates are designed to work specifically with BHJ's O-Ring Groove Cutter. Each Plate is engine-specific and locates on the dowel holes in both the block and heads, thus ensuring precise alignment of the grooves when assembled. Through-holes and threaded holes are machined into each Plate to allow fastening the Plate to both the block and head. Plates are available for virtually any currently available block and/or head.

Each O-Ring Register Plate is supplied with the appropriate dowel pins for mounting to the block and head.

The latest additions to this system are the Caterpillar C15/C18, Cummins ISX and Detroit 60 diesel plates, for use with the new ORG-3PLUS cutter head. These new plates can be used with your existing ORG cutter head, by adding the new 3PLUS tool holder. The longer PLUS tool holder extends the starting-point diameter out to 7", significantly increasing the number of potential future applications.

Part Nos:
"Starter Kits"
ORG-3-SK-CG, O-Ring & Receiver Groove Cutter Starter Kit for Copper Gaskets (incl. Stainless Wire)
ORG-3-SK-MLSS, O-Ring & Receiver Groove Cutter Starter Kit for MLS Gaskets (incl. Stainless Wire)
ORG-3-SK-MLSC, O-Ring & Receiver Groove Cutter Starter Kit for MLS Gaskets (incl. Copper Wire)
ORG-3-SK-FPLW, O-Ring & Receiver Groove Cutter Starter Kit for Fel-Pro Loc Wire Gaskets
ORG-3-SK-DR120R, O-Ring & Receiver Groove Cutter Starter Kit for Diesel Fire Rings

Individual Parts
ORG-3, O-Ring & Receiver Groove Cutter
ORG-3PLUS, O-Ring Groove Cutter for large diesel engines
ORG-DG, O-Ring Groove Depth Gauge
ORG-I039, Cutter Insert .039" (for .041" wire & Visner Flame Hoops)
ORG-I048, Cutter Insert .048" (for .051" wire)
ORG-I060, Cutter Insert .060" (for receiver groove)
ORG-I085, Cutter Insert .085" (for Fel-Pro Loc-Wire™ gasket)
ORG-I120, Cutter Insert .120" Flat Nose (for diesel "Fire Ring" applications)
ORG-I120-FNR, Cutter Insert .120" Full Radius Nose (for diesel "Fire Ring" applications)
ORG-W041-LB, 1 lb. Roll Stainless O-Ring Wire .041"
ORG-W041-C-LB, 1 lb. Roll Copper O-Ring Wire .041"
ORG-W051-LB, 1 lb. Roll Stainless O-Ring Wire .051"
ORG-3-UPGD, ORG-3 Upgrade for older BHJ O-Ring Groove Cutters

Registration Plates
Part Nos: ORP-XXX (various, per application)

Click Here To Download Instructions