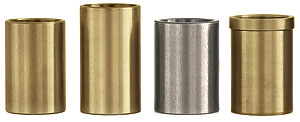 Part Nos:
LBS-XXX: "Classic" Bronze, (various sizes, per application)
LBS-ED-XXX: "Modern" Bronze, (various sizes, per application)
LBS-CI-XXX: Cast Iron, (various sizes, per application)

Please note that lifter bushings with "standard" O.D. of 1.002" and 1.062", as well as all-custom dimensions, may now be purchased through our new LifterBushings.com website.

LifterBushings.com offers convenient 16-packs of .843, .875, .906 and .937 I.D., with standard O.D. of 1.002" and 1.062", and overall lengths of 1.50", 1.75" and 2.30", in-stock and ready to ship. Bushings with custom-made O.D. and length, per your specifications, are also available.

At this time, some custom-feature bushings are only available by phone order at +1 (510)797-6780.

Click here for BHJ's LifterBushings.com

BHJ's custom lifter bore sleeves are available in our "Classic" leaded bronze, our "Modern" aluminum bronze, as well as cast iron, in a wide variety of sizes to suit standard Chevrolet, Ford, Chrysler, .937 and larger I.D. applications. Standard lifter bushing sizes are nominal 1" O.D., by 1.500" long and are of a standard "Barrel Bushing" design.

All sleeves are made-to-order and sized per the application. Press-fit O.D. sizes are dependent upon the size lifter being used, as well as the bore in the block into which the sleeves will be installed. This bore-size must be specified when ordering to ensure proper press fit during installation. Longer sleeve lengths are also available for applications with tall lifter bosses or other performance applications. Lengths of 1.600" through 2.50" are available for most I.D./O.D. combinations and must be specified when ordering.

Custom sleeve design configurations, including keyways, flange-top, oil holes/oil slots and internal or external oil bands can be accommodated on a special order basis.

Bronze sleeves are also available in .937" I.D. for Jesel and other aftermarket lifter applications. Our Modern Bronze provides added strength and abrasion resistance for a wide variety of severe-duty valvetrain environments. Standard 1" O.D. as well as special 1.062" O.D. are also available for all I.D. sizes. Though it is typically suggested that .937" bushings use the 1.062" O.D. to maintain greater wall thickness, our Modern Bronze can easily manage a .937 lifter with a nominal 1" O.D. bushing. Cast iron sleeves are also available in longer lengths and special configurations mentioned above.

Quantity price breaks on custom orders are available for all sizes at 25 (-2%), 50 (-5%), 100 (-10%) and 200+ units (-15%), per size.

BHJ's Lifter Bore Hone is also available to finish lifter bore I.D.s and attain proper clearance to the lifter after bushings are installed.