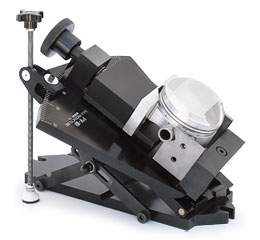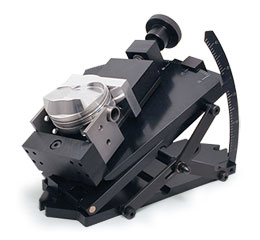 Part No: PV-1B

The Compound Angle Piston Vise is a precision machining fixture that accurately and securely mounts pistons for a wide variety of operations. The easy-to-use Vise holds pistons firmly, yet delicately from the pin centerline and accepts piston sizes ranging from 2.375" to 5" in diameter.

Accurate positioning is ensured both horizontally and vertically using durable heat-treated steel V-Jaws for pin clamping and an opposing, soft aluminum V-Block to ensure skirt protection. This assembly is mounted on a Tilt/Swivel Base that is equipped with large, easy-to-read Protractors for angle setup in both planes and is ready to mount on any milling table.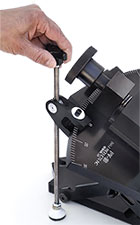 A Fine Adjustment Attachment (above) allows exact angle settings to be achieved with ease and can be attached to the vise in a variety of locations. The Fine Adjustment Attachment is also available separately as an upgrade for older PV-1B Vises.

All moving parts that are subject to wear are made from alloy steel. The Tilt/Swivel Base assembly is made from alloy aluminum tooling plate for weight considerations and then hard anodized for maximum durability. Both the Vertical Angle Protractor and the Fine Adjustment Attachment are removable after setup, for added clearance during machining.





BHJ's Piston Flycutter Set (above) is also available separately and includes three Flycutters in .750", 1.125", and 1.500" sizes. Shank size of cutter heads is .500" diameter.

The VT-6 Valve Angle Comparator is a recommended angle-measuring companion tool for the Piston Vise.

Click Here To Download Instructions