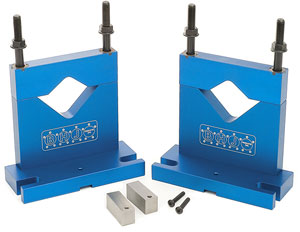 Part No: CVB-1

BHJ's Crankshaft V-Block Set is designed to securely support crankshafts for keyway cutting, cross drilling and knife-edging, as well as multiple other operations.

The V-Blocks are constructed of anodized aluminum to insure a firm, yet safe hold on journals ranging in size from 1.700" to 3.250". Heat-treated steel inserts at the fastener wear locations provide extended durability.

The Kit includes two V-Blocks with removable .6250" T-Slot Keys to allow bench-top use as well as machine table mounting. Overall height includingstuds is 7", with the base of the V at 2.875" from the table surface.

The CKF-2 Crankshaft Dual-Keyway Fixture is a recommended companion to this Kit.