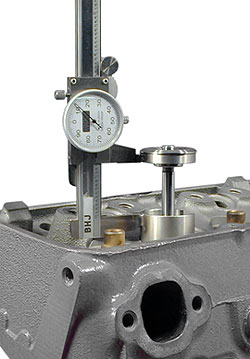 Part Nos: VT-2, VT-2A, VT-2B

One of the most critical areas of cylinder head preparation for competition is the valve spring installed height.

The Valve Spring Installed Height Caliper is based on a high quality Dial Vernier Caliper. Use of this instrument involves installing the valve spring retainer and measuring the spring space with the specially designed caliper feet. The Calipers combine both speed and accuracy in one instrument.

The VT-2 has an outside spring diameter range of 1.250" to 1.550". The VT-2A has an outside spring diameter range of 1.400" to over 1.625". The TV-2B is designed for use with beehive style valve springs and accommodates the smaller retainers found in modern engines like the GM Vortec and LS Series and Chrysler 5.7 and 6.1 Hemi.