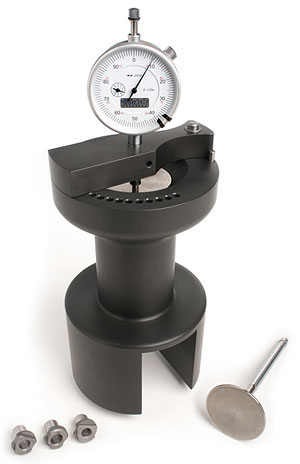 Part No: VMC-1

BHJ's Valve Margin Comparator enables quick and easy comparison of valve margin thickness. Detecting margin variations between valves is critical to matching their flow characteristics, as well as assuring equal combustion chamber volumes. Matching the valves before head assembly reduces the possibility of disassembling one or more chambers after cc'ing the head to re-machine the valves or seats.

The Valve Margin Comparator uses a durable, hard-anodized aluminum Base, which is ideal for many years of bench-top use. Interchangeable Slip-fit Bushings positively locate valve stems of various sizes to ensure accurate, perpendicular positioning of the valve for precise measuring. The adjustable Indicator Swing-Arm can be set to consistently read margin thickness at virtually any location across the face of valves up to 3" in diameter.

The Valve Margin Comparator includes the Base, a one-inch-travel Dial Indicator with adjustable Swing-Arm, a Positioning Pin and three Slip-fit Bushings to accept 5/16", 11/32" and 3/8" valve stems. Additional Bushings are available in other sizes separately.