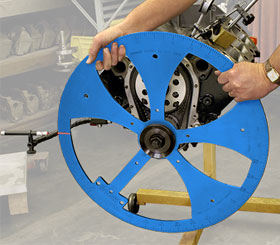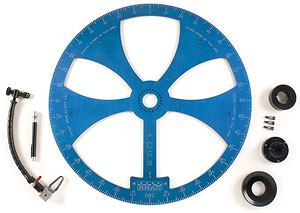 Part No: DGW-1

The 24" Laser Degree Wheel provides the ultimate in ease of use, flexibility and accuracy. Super heavy-duty construction and precision design mean this is a "Hands-On" tool that makes the cam dial-in process faster and less complicated.

The large diameter, 1/4"-thick billet wheel provides .200" separation per degree mark and all marks wrap around the face and outside edge of the wheel for excellent clarity (below right).

The four curved spokes show general intake and exhaust open/close ranges for quick reference and allow easy crank rotation by hand, even with the complete valvetrain installed.





The easy-on, easy-off wheel allows cam and gear changes without resetting TDC, as the hub remains bolted to the crank when the wheel is removed. The wheel is indexed to the hub in 15º increments, using three locating dowels for nearly unlimited TDC and pointer positioning (above left).

The laser pointer and flexible mounting arm accept bolt sizes from 1/4" to 9/16", allowing virtually any mounting position or angle and ensuring correct readability from all view points — eliminating guesswork.

The heavy duty, billet steel hub assembly weighs over 4.5 pounds and has an integrated 1-1/4" hex. It accepts up to a 5/8" (16mm) crankshaft bolt and uses interchangeable steel crank adapters for simple and economical application changes. Adapters are available for all applications, include dual-keyways in most cases and custom sizes and keyway configurations are also available. A 4" O.D. knurled hand nut (above center) enables quick, secure installation and removal of the wheel.

The DGW-1 kit includes the 24" wheel, laser pointer with flexible mounting arm and two-piece hub with one crank adapter (specify size when ordering). All steel parts have a durable, black oxide finish and aluminum parts are anodized.

Click here for a customer's set-up photo on our Facebook page...