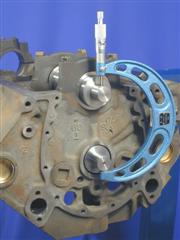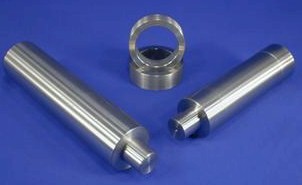 Part Nos: CCG-1-XXX (various, per application)

The CCG-1 Cam/Crank Center Distance Gauge provides an accurate method of measuring the center-to-center distance of the cam and crank, which is imperative with the availability of custom length timing sets from various manufacturers.

The CCG-1 is available to fit all popular engines. The initial kit includes one Crankshaft Bore Mandrel, one pair Main Bearing Bore Adapter Rings and one Cam Tunnel Mandrel.

The Crankshaft Bore Mandrel is universal to all applications using the Main Bearing Bore Adapter Rings to center it in the mains. The Cam Tunnel Mandrel is machined to fit the two front cam bearing bores. The measuring pin on each mandrel is 1" diameter. A simple micrometer measurement across the two pins installed in the block and the subtraction of 1" gives a precise measurement. (Micrometers sold separately.)

Step-Up Kits are supplied with one Cam Tunnel Mandrel and one pair of Main Bearing Bore Adapter Rings.

The TSG-1 Timing Set Length Gauge is also available for comparative measurement of timing sets.