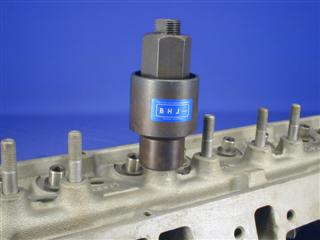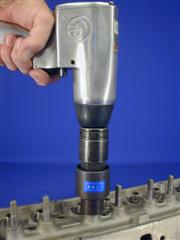 Part Nos: SP-2, SP-3

In response to the need for truly durable tools for removal of press-in rocker arm studs, BHJ has a Rocker Stud Extractor to meet the most severe demands imposed upon it.

The SP-2 Rocker Stud Extractor (above) is compact yet durable. Manufactured from heat-treated alloy steels for maximum durability, this unit is strong enough for use in a high performance head shop where 16 studs are removed in succession, yet economical enough to be in a machinist's toolbox for occasional use in extracting a worn stud. The center stud is reversible for use on either 3/8" or 5/16" studs.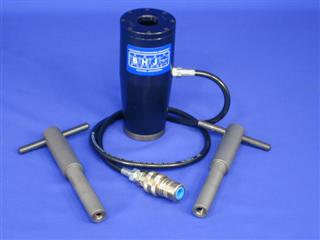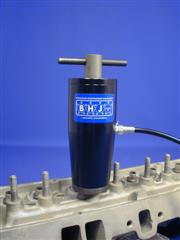 The SP-3 Hydraulic Rocker Stud Extractor is a real time saver for the busy high performance cylinder head shop. When tied into a hydraulic power unit (not included) such as the piston pin press found in most shops, this unit can remove eight studs in little more than five minutes, with no operator effort.

The SP-3 is a lightweight unit due to the use of aluminum for non-stressed elements. Heat-treated steels are used for all wear and high stress parts. The unit is supplied complete with the necessary length of high-pressure hose and no-bleed quick coupler. For use with a hydraulic pressure source capable of 3000psi, to 3500psi maximum pressure.