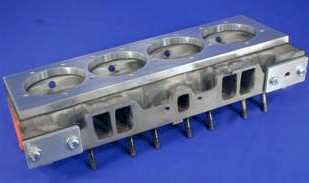 Part Nos: PTK-XXX-XXX, (various, per application)

In order to find cracks and porosity in cylinder head, or block castings, it is necessary to pressurize the water jacket and submerge the part, to locate the leaks.

Pressure Testing kits are quick and easy to use. The kit is affordable for the shop that does only a small quantity of cylinder heads. Pressure test kits are available for most head applications, as well as for most engine block applications.

Head and Block kits are sold separately. Head kits include all parts needed for use on the cylinder head and Block kits come with the necessary parts for pressure testing the engine block. Each kit contains a block-off plate that is precision machined from aluminum, all required fasteners, and durable, reinforced rubber gaskets.